We have worked alongside top American interior designer Timothy Corrigan for many years and so are thrilled to have some of our projects showcased so beautifully in Timothy's recently launched book, 'The New Elegance'.  In the book he shares eleven wonderful homes he has designed for high end clients in which he has defined a new contemporary elegance.  It contains beautiful photography and is filled with lots of advice on how to create an elegant and comfortable home.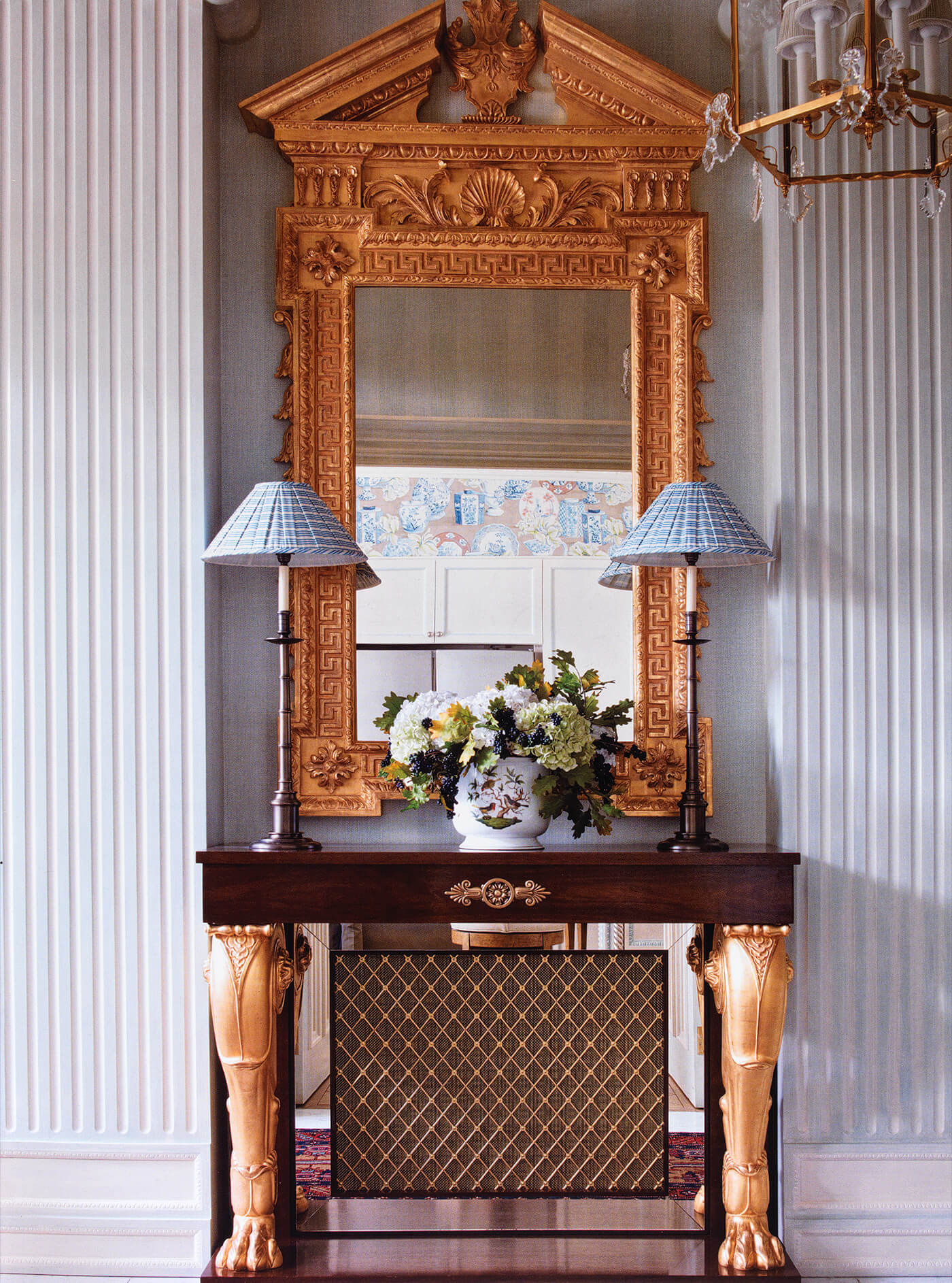 The best of British style
The first chapter features a stunning full page photograph of our William Kent mirror sitting above the Regency monopodia console table.  These pieces were created for the entrance hall of Belgravia House, a Georgian Mayfair house.  The brief from the client was to create a classic British interior but one adapted to the practicalities of today's living.   A pilaster on the right was installed to conceal ductwork, the one on the left was added for symmetry and we customised the console table to conceal a radiator grille.
Similarly, on a stair landing, we designed a Regency dummy dwarf bookcase to encase a radiator. Made in polished mahogany with 23.5 carat gold leaf in the fluting, the bookcase has brass grilles with a brass mess behind it.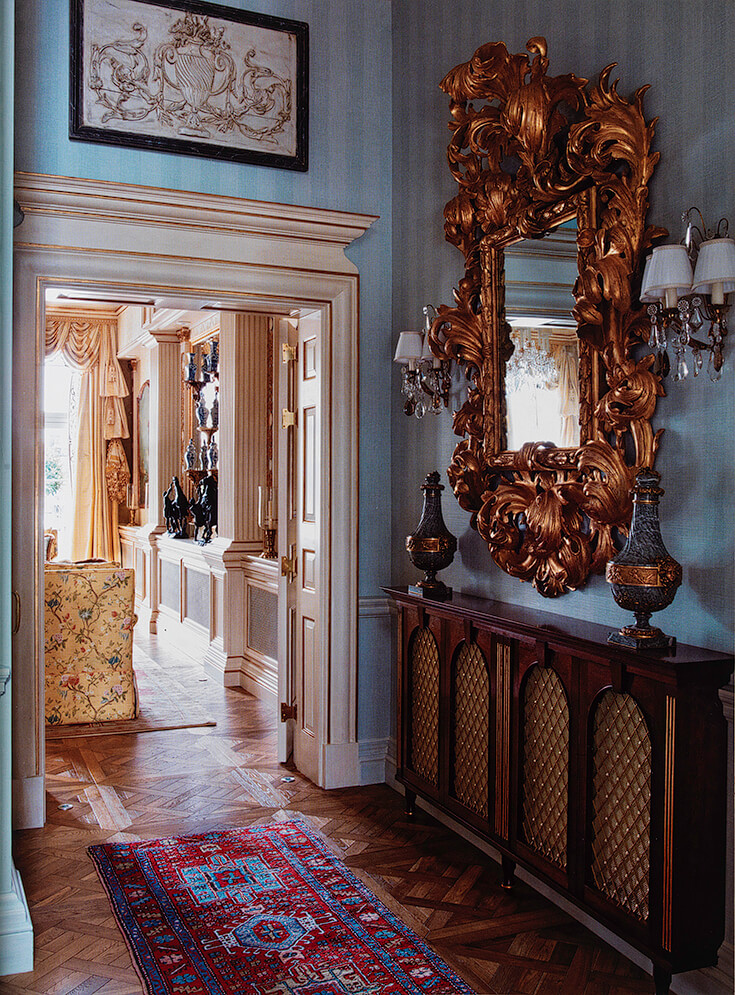 An early eighteenth century mirror hangs above a bespoke dummy dwarf bookcase
The Klismos chair with a leather string work seat was created to complement an antique desk for the upstairs sitting room of Belgravia House.  The room was designed to evoke global travels – hence the reference to the ancient Greek style chair.  We also made a beautiful bespoke white marble table for a warm and cosy American-style kitchen area.
To add refinement and elegance to a lady's bedroom, we created customised panelling to frame the mirrored wardrobes.  We chose a subtle decorative pattern gilded in 23.5 carat gold leaf.  This turned what would have been a plain background piece into an essential element of the room's feminine feel.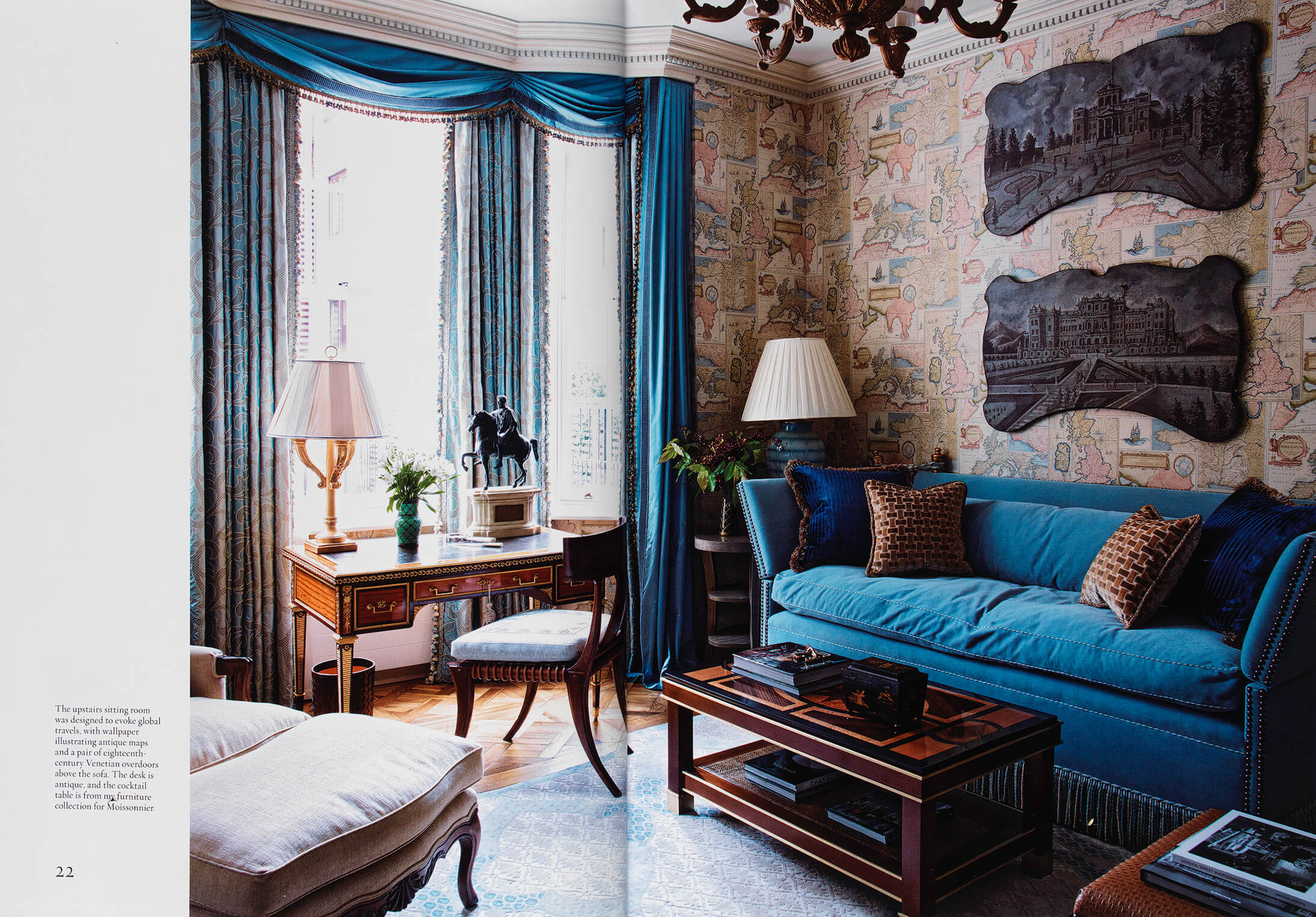 We were excited to be involved in a project for a home for the Qatari Royal Family.   Our pieces were designed to complement a palette of golden beiges and rich blues to echo the sea visible from the many windows.  Our marble topped Regency Roman Centre Table, which is featured in the book, sits proudly in the entrance hall and with the Jerusalem stone floor and columns, provides a contrast to the cool, pale palette.  The marble top inlaid with shell decoration was chosen from our collection of exquisite specimen marble tops.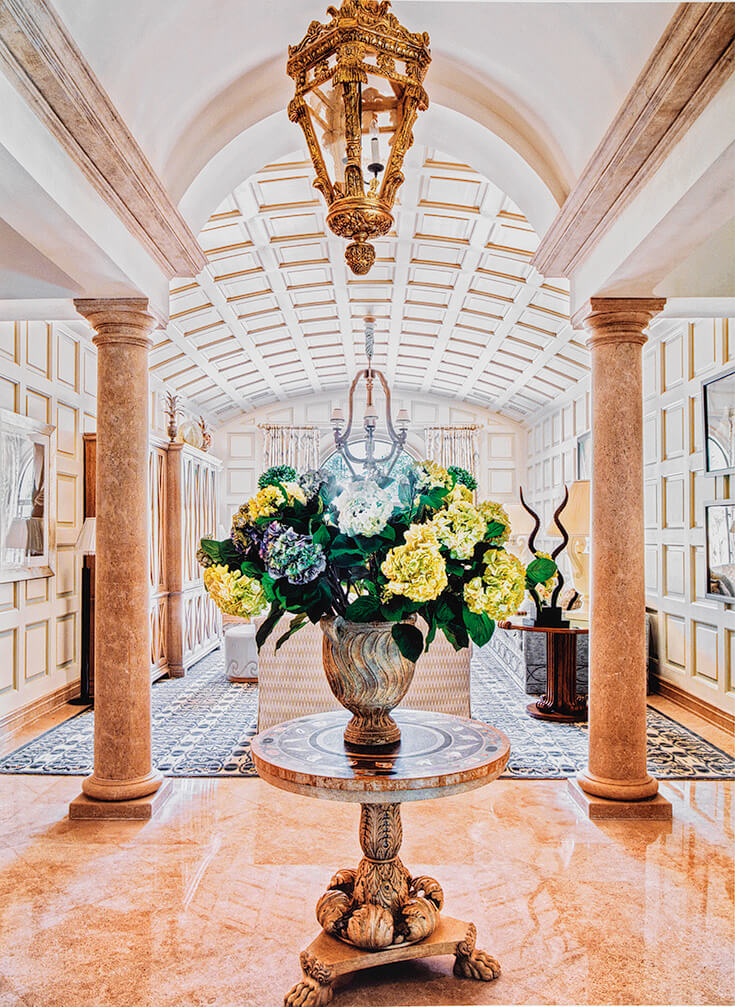 I wholeheartedly agree with Timothy's philosophy of life when he explains so eloquently in the book that elegance, like beauty, adds pleasure to life and should be part of everyday life – not something that is saved for a special occasion. Many of the rooms in the book do look incredibly grand but Timothy stresses that comfort is at the forefront of all the rooms he designs: "Comfort is not antithetical to elegance, but rather its support and backbone.  No one can feel truly elegant (at least not for long) if he or she doesn't feel at ease."
We are pleased to be making furniture for Timothy's chateau in France and continue to support him on his current projects.
If you see something you like and would like to discuss it with us, simply call +44 (0)1258 857573.