One of the most thrilling commissions we have had recently, with a fascinating story behind it, was for a pair of magnificent mirrors for my dear friend Nick Ashley-Cooper, the 12th Earl of Shaftesbury.
Nick, who is also my neighbour, asked us to make an exact copy of the original rococo pier glasses that hung in his impressive Georgian ancestral home, St Giles House in Dorset, as part of a remarkable restoration project. The restoration of St Giles House has since won several prestigious awards and is now the subject of a glorious new book: "The Rebirth of an English Country House," (published by Rizzoli) which Nick co-wrote with art historian Tom Knox and we are thrilled that our St Giles mirrors are included in the new book .
St Giles House had fallen into such despair by that start of the twenty first century, according to Jenny Chesher, Inspector of Historic Buildings and Areas at Historic England, its rescue was, "despaired of by eminent architectural historians of the time."
Nick Ashley-Cooper made the important decision to embark on the restoration of St Giles upon inheriting the estate rather unexpectedly.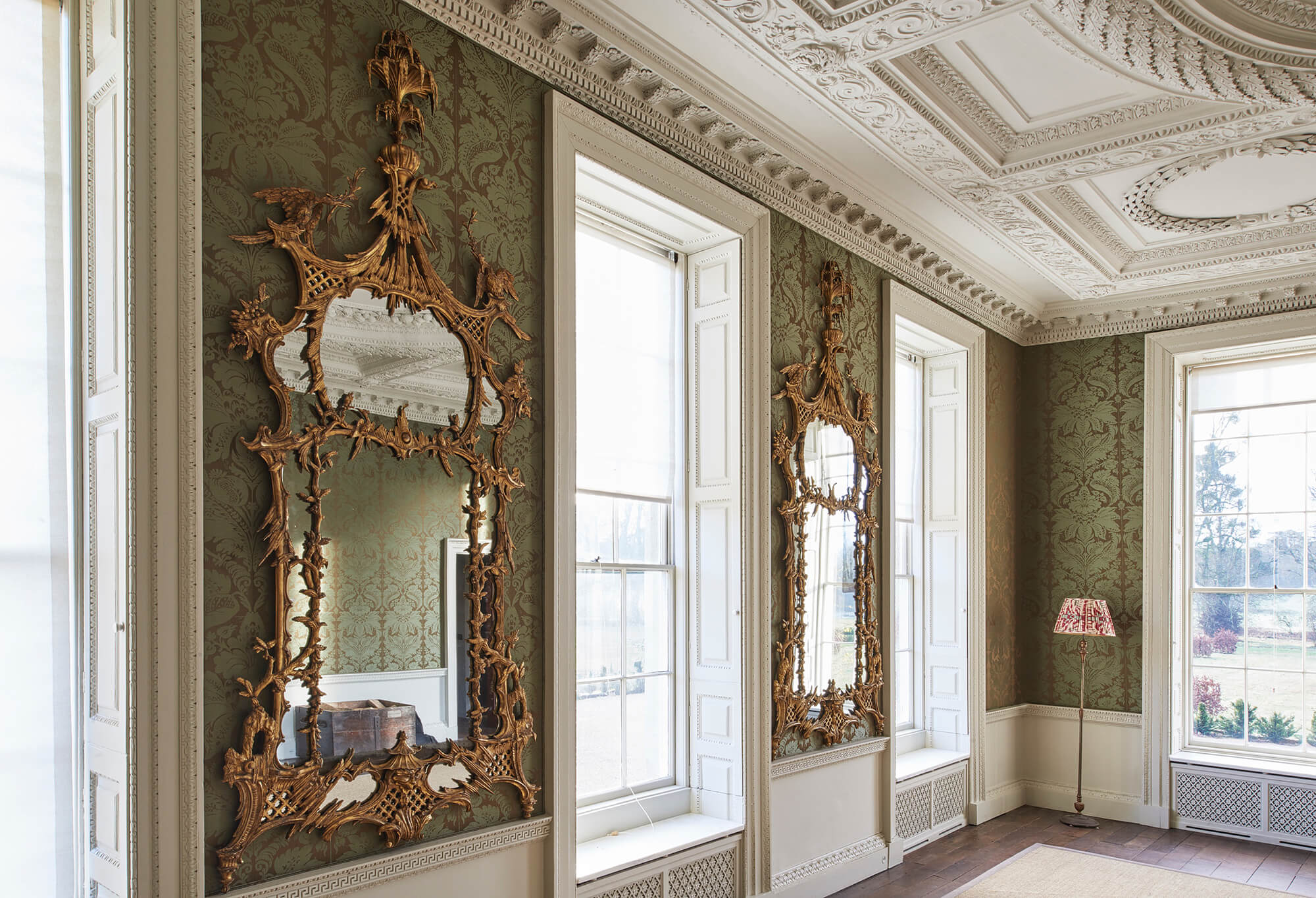 photograph by Justin Barton
Nick and his wife Dinah have thoughtfully and painstakingly restored the ancestral family home to its former glory although, as explained in the new book, Nick has adopted a more minimalist approach toward the restoration; rather than present the house in perfect condition, "it retains the memory of its former decline."
We were asked to make the St Giles mirrors to hang in the south drawing room.  Sadly, much of the original furniture in this room, including the pier glasses, had been sold at Christies in the 1980s.  The original mirrors, which are now in the Gerstenfeld collection, are regarded by experts as mirrors of the highest quality so we had a hard act to follow.  The new St Giles mirrors are hand carved and gilded in 23.5 carat gold leaf using traditional methods and now hang in exactly the same place; between windows on the east wall with wonderful views out to the Sunken Garden. We are pleased (and slightly relieved) to report, that Nick is delighted with them describing them as, "astonishing."
It has been an honour for us to play a small part in bringing this historic country home back to life. This project has been a labour of love for Nick and Dinah.  We are thrilled for them that the restoration of St Giles House has received so many glowing accolades and is now widely recognised as a textbook restoration case study.
I can remember St Giles as a neglected and decaying house but now thanks to the painstaking efforts of all those involved in the restoration, it is a home filled with beauty, colour and life.
Jonathan Sainsbury Collection
The new St Giles mirrors are a highlight of our Jonathan Sainsbury collection of mirrors. They are available as a pair or as a single mirror and can be made to specific sizes.  We have a wide selection of mirrors available ranging from highly decorative, like the St Giles mirrors, to minimalist contemporary mirrors.  All our pieces are hand carved and finished in our workshops by our team of dedicated craftsmen.