Marble Hill House is possibly the loveliest English Palladian villa I have visited.  Set in 66 acres of magnificent riverside parkland near Richmond, it is a Georgian masterpiece. So, it was a huge pleasure to be invited by English Heritage to make our George II sofa for the house.
Marble Hill was built for Henrietta Howard, a mistress of King George II when he was Prince of Wales, and was intended as a country house retreat from the hurly-burly of 18th century London life.  Henrietta Howard, who later became the Countess of Suffolk, was a member of a distinguished circle of writers, poets and politicians as well as a dedicated patron of the arts.  Building started in 1724 and was completed in about 1729, under the supervision of Roger Morris.  The design of Marble Hill quickly became widely admired for its beauty and compact plan and soon provided a standard model for the English villa.
The George II sofa will sit in the Great Room on the first floor, which in my view is by far the finest room in the house.  The carefully planned interior is focused on this room where the learned Mrs Howard received her guests.
Our remit from English Heritage was to create a historically accurate sofa, but one that is strong and hardwearing enough to withstand being used and sat on by visitors.  Rather than creating a Georgian sofa for display purposes only, visitors will be actively encouraged to relax on the new sofa.
The George II sofa, is a carved mahogany two seater with swept upholstered arms and cabriole legs.  Typical of fine furniture made during the Georgian period, it is lavishly carved with acanthus leaves and has the distinctive claw and ball feet motif.  18th century craftsmen valued the harmony, proportion and symmetry established in the architecture of Greece and Rome. Indeed, many of the decorations used in ancient Greek and Roman sculpture and paintings were interwoven into Georgian furniture and architectural design.
English Heritage acquired Marble Hill in 1986 and restored the interiors to reflect Mrs Howard's occupancy and fashionable Georgian life. The interiors have been beautifully interpreted and contain some wonderful decoration including hand-painted Chinese wallpaper in the dining parlour and some heavenly furniture.
The commissioning of new furniture, such as the George II sofa, at Marble Hill is now part of a much larger plan to revive and conserve the house and surrounding parkland for future generations, thanks to a grant from the National Lottery Heritage Fund and the National Lottery Community Fund.
The house is currently closed while the restoration takes place and I feel that we are in for a real treat when it re-opens in 2021.  We hope that our sofa will provide a comfortable spot in the Great Room from which visitors can admire the magnificent fireplace, beautiful paintings, furniture and lavishly gilded decoration.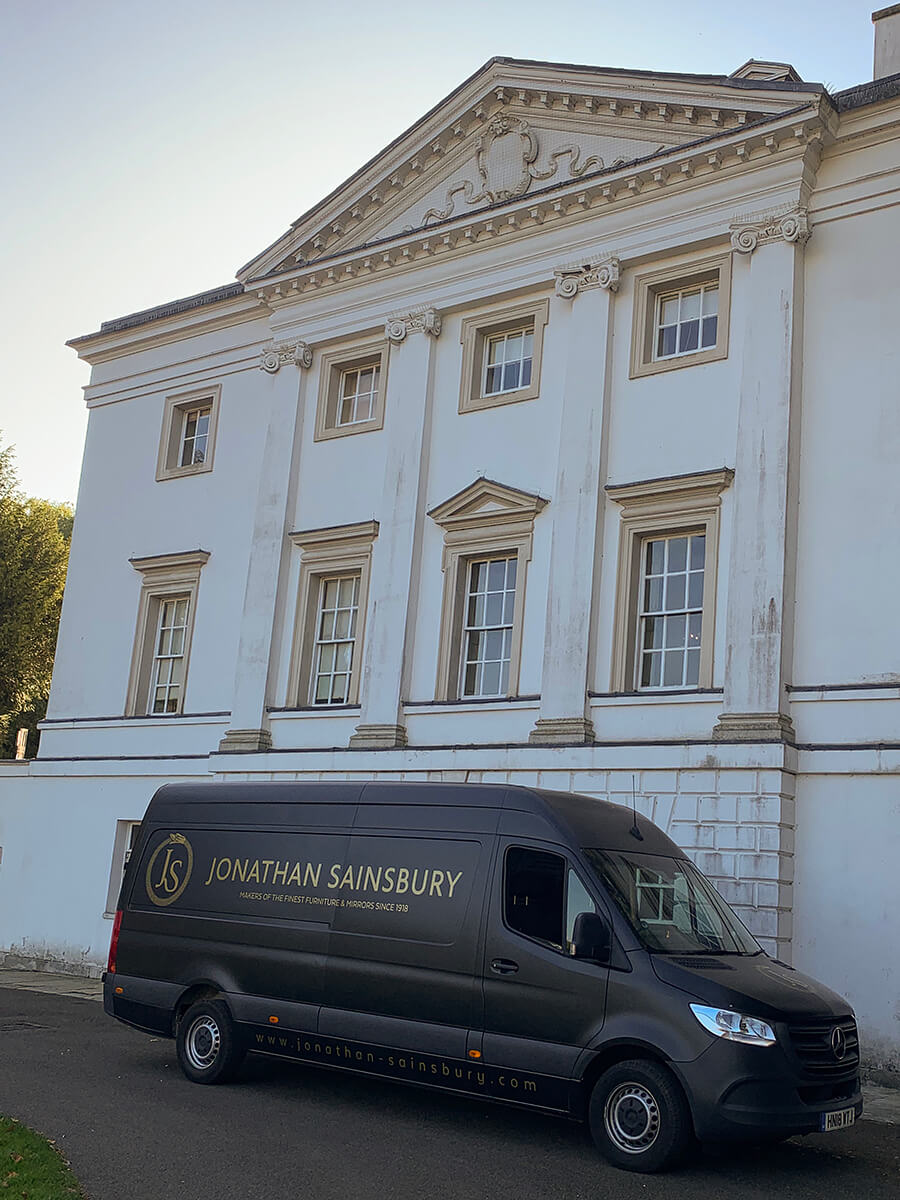 The George II Sofa arrives at Marble Hill from Jonathan Sainsbury's Dorset workshop